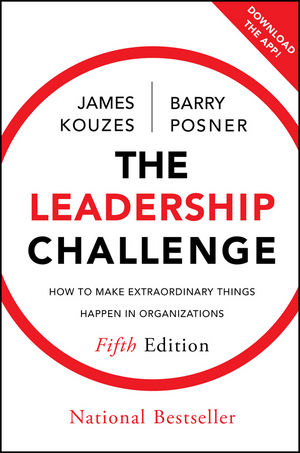 The seminal book The Leadership Challenge by Kouzes and Posner is one of our textbooks for the course "Leading a Missional Organization" which is part of our the Doctorate of Ministry in Missional Effectiveness offered through Bethel Seminary
(A NEW COHORT BEGINS IN FEB. 2017!)
Here are some of key insights from the book which is organized by the 5 practices of exemplary leadership.
PRACTICE 1 – MODEL THE WAY
"The only magic is brute consistence, persistence, and attention to detail." – Tom Peters, coauthor of In Search of Excellence
Leaders act in ways that are consistent with their beliefs, they are persistent in pursuit of their visions, and they are always vigilant about the little things that make a big difference.
Leaders know that their position gives them authority, their behavior earns them respect.
Effective leaders do the following:
Set the Example
Clarify Values
Affirm Shared Values
Live the Shared Values
Teach Others to Model the Values
Leaders plan small wins that promote consistent progress and build commitment by doing the following:
Experiment continuously.
Divide tasks into small chunks.
Reduce items to their essentials.
Don't push people into change.
Instead: give people a sense of choice, make choices visible to others, create choices that are hard to revoke.
Generate Small Wins – leaders make risk safe turning experiments into learning opportunities, consider pilot projects
PRACTICE 2 – INSPIRE A SHARED VISION
"To manage is to lead, and to lead others requires that one enlist the emotions of others to share a vision as their own." – Henry Boettinger, AT&T
To do this requires the following:
Envision the future by imagining ideal scenarios.
Envision an uplifting and ennobling future.
Enlist others by attracting people to common purposes.
Enlist others ins a common vision by appealing to their values, interests, hopes, and dreams.
PRACTICE 3 – CHALLENGE THE PROCESS
"Leadership requires changing the 'business-as-usual' environment." – Joe Sparagna, V.P., Elsin Corporation
Challenging the process involves the following:
Search for opportunities by confronting and changing the status quo.
Search out challenging opportunities to change, grow, innovate, and improve.
Encourage people to risk failure by honoring risk-takers.
Exercise Outsight – looking outward for new ideas.
Experiment and Take Risks – leadership is inextricably connected to the process of innovation.
Learn from mistakes.
Foster hardiness.
PRACTICE 4 – ENABLE OTHERS TO ACT 
"The few projects in my study that disintegrated did so because the manager failed to build a coalition of supporters and collaborators." – Rosabeth Moss Kanter, Harvard
Enabling others to act includes the following:
Foster collaboration – invite stakeholders into the process and get people to work together.
Create a climate of trust – vulnerability can create a community of authenticity.
Facilitate Relationships – encourage face-to-face communication.
Strengthen others – validating others and sharing information – increasing their visibility and discretion.
Strengthen others and build trust by giving away power. "Power is an expandable pie."
Enhance self-determination – creating choices facilitates champions rather than "victims."
Develop competence and confidence.
PRACTICE 5 – ENCOURAGE THE HEART
"If you don't show your appreciation to your people, then they're going to stop caring, and then you are going to find yourself out of business." – LuAnn Sullivan, Wells Fargo Bank
Encourage the heart by doing the following:
Expect the best.
People are motivated to increase their productivity when they have a challenging goal and receive feedback on their progress.
Celebrate the Values and Victories
Recognize Contributions – One way that leaders show they care is to pay attention and notice what people are doing right. A positive focus on behavior and performance, linked to goals and values, improves morale and increases productivity.
Personalize Recognition – Personalizing recognition sends the signal that the leader took the time to notice achievements, seek out the responsible individual, and personally deliver praise in a timely manner.
Create a spirit of community.
Every gathering of a group is a chance to renew commitment. R

einforce the social fabric and organizational purpose. Celebrate!

Tell the story. Storytelling is how we pass along lessons. By telling a story, leaders shine the spotlight on individuals who have lived out the organization's values–and provide others with an example they can emulate.
Set the example. 

Leaders must set the example, be visible, and be personally involved. 

It's the human connection between leaders and constituents that ensures more commitment and more support.
Leadership Is Everyone's Business
Look to Leaders Everywhere.
Know How Important You Are.
Practice.
Reflect.
Remain Humble and Human.
Seize the Moment.
Remember the Secret to Success in Life Is Love!